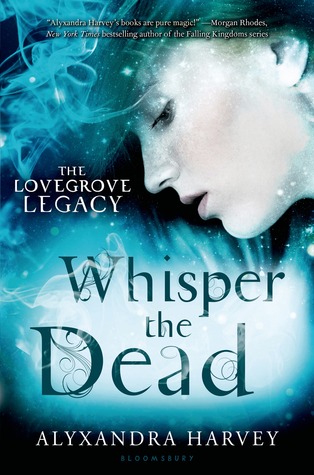 WHISPER THE DEAD (#2 Lovegrove legacy)

Cousins Gretchen, Emma, and Penelope are all dealing with what it means to be a Lovegrove. For Gretchen, it means she often feels like her head is going to explode. As a Whisperer, Gretchen constantly hears the whispers of other witches' spells. And while this does help her to know when one of her own spells is going wrong, the incessant buzzing and pain the whispers cause makes it difficult to use her gift.
But when something evil begins to menace Mayfair, Gretchen must find a way to master her power. Along with her cousins, a madcap named Moira, and the icy yet irresistible Tobias Lawless, Gretchen faces deadly threats and unimaginable loss in the hopes of preventing the terrible Greymalkin Sisters from rising again.
The second book in The Lovegrove Legacy trilogy,
Whisper the Dead
will leave readers spellbound.
MY REVIEW
I won this book a while back ... and I mean a while ... November 2014!!!

it sat on my shelves every since ... I intended to buy the first book but never really remembered until I looked at my bookshelves and seen this book.

I finally decided to read it ... how bad could it be without the first book?

well ...

it wasn't bad at all ... in fact, it's

MAGNIFICENT

!
I do wish I'd bought the first book and I will buy it as soon as possible
(I've shared some buy links above for this book)
Sometimes, before I read a new-to-me book or author I will do some research first ... I was surprised and happy to find that Alyxandra Harvey is a

CANADIAN

gal like me!

I do love finding and supporting Canadian authors

Whisper the Dead is a TEEN/YA book ... it's a clean read =)

Surprisingly, this book has one of the BEST , in my opinion,

KISSES

I've read in a long time! Seriously ... it was just THAT well written

(page 307/308)

I

loved

the characters in the book
(again, I wish I'd met the cousins in book one)
and love the way Alyxandra blended two worlds ... the human world with magical beings and creatures

(hidden from human view ... mostly)

She brings

adventure, fantasy, humor, romance, and historical fiction together beautifully ... I fell in love with the cousins and the charming men too!
this book ends on a cliff hanger so I do hope Alyxandra Harvey writes a third book ...
I need to know what happens to Gretchen & Tobias, Emma & Cormac, and Penelope
this book ends on a cliff hanger so I do hope Alyxandra Harvey writes a third book ... I need to know what happens to Gretchen & Tobias, Emma & Cormac, and Penelope