Manwhore +1
(Manwhore #2)
by Katy Evans
Billionaire playboy? Check.
Ruthless businessman? Check.
Absolutely sinful? Check.
Malcolm Saint was an assignment. A story. A beautiful, difficult man I was supposed to uncover for a racy exposé.
I intended to reveal him, his secrets, his lifestyle—not let him reveal me. But my head was overtaken by my heart and suddenly nothing could stop me from falling. I fell for him, and I fell hard.
Malcolm Saint is absolute Sin, and I've become a hopeless Sinner.
Now that the assignment is over, Saint wants something from me--something unexpected--and I want this wicked playboy's heart. But how can I prove to the man who trusts no one that I'm worthy of becoming his plus one?
BUY LINKS
amazon US
amazon CA
Chapters Indigo
MY REVIEW:
This was the continuation of Manwhore ... and I loved it!
I was glad to see what happened next ...
Once trust is broken can it ever be forgiven?
Did Rachel's betrayal cut to deep?

I am not giving anything away ... so that makes this a difficult review to write ...
so I can say is ... I LOVED IT!

I recommend both books ... Try them ... you can love them too!
LINKS
http://www.katyevans.net/
https://twitter.com/authorkatyevans
https://www.facebook.com/AuthorKatyEvans/timeline/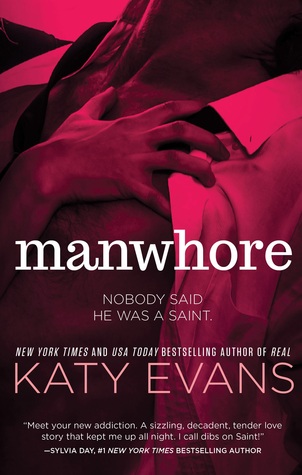 Manwhore
(Manwhore #1)
by Katy Evans
Is it possible to expose Chicago's hottest player—without getting played?
This is the story I've been waiting for all my life, and its name is Malcolm Kyle Preston Logan Saint. Don't be fooled by that last name though. There's nothing holy about the man except the hell his parties raise. The hottest entrepreneur Chicago has ever known, he's a man's man with too much money to spend and too many women vying for his attention.
Mysterious. Privileged. Legendary. His entire life he's been surrounded by the press as they dig for tidbits to see if his fairytale life is for real or all mirrors and social media lies. Since he hit the scene, his secrets have been his and his alone to keep. And that's where I come in.
Assigned to investigate Saint and reveal his elusive personality, I'm determined to make him the story that will change my career.
But I never imagined he would change my life. Bit by bit, I start to wonder if I'm the one discovering him...or if he's uncovering me.
What happens when the man they call Saint, makes you want to sin?